– Google Maps
– Street View
– Papanui-Innes Community Board
– Parking
– Metro Bus Routes
Google Maps
Street View
Papanui-Innes Community Board
10 Shirley Road is the original site for the Shirley Community Centre.
This area is in the Papanui-Innes Community Board, as part of the Innes ward:
– Link: https://www.ccc.govt.nz/culture-and-community/christchurch/statistics-and-facts/community-profiles/papanui-innes/
– Link: https://ccc.govt.nz/the-council/how-the-council-works/elected-members/community-boards/papanui-innes/board-members
Parking

Onsite Parking: around the building as indicated below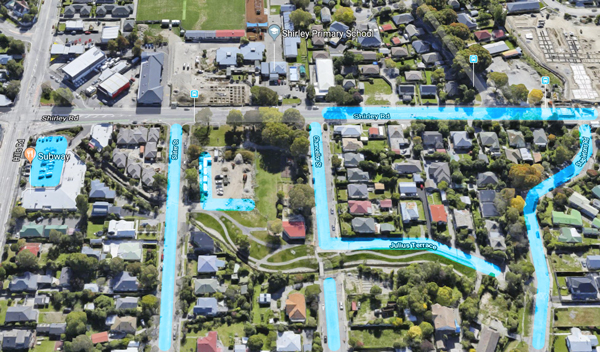 Off Street Parking:
– Cnr Hills Road & Shirley Road Shopping Centre, pathway from car park to Slater Street, following Dudley Creek
– Shirley Road
– Slater Street
– Chancellor Street, bridge over Dudley Creek by the Shirley Playcentre
– Julius Terrace
– Stapletons Road
The Dudley Creek Flood Remediation project has included new pathways and landscaping, between Slater Street and Stapletons Road.
Metro Bus Routes | http://www.metroinfo.co.nz/map/
Bus stops are located outside 10 Shirley Road, and across the road, by Shirley Primary School.
Orange Line
Halswell > Addington > Christchurch Hospital > Bus Interchange > The Palms > Burwood Hospital > Queenspark
– Link: http://www.metroinfo.co.nz/timetables/Pages/Timetable.aspx?routeid=O
The Orbiter
Eastgate Shopping Centre > St Martins > Barrington Mall > Westfield Riccarton > University of Canterbury > Northlands > The Palms > Eastgate Shopping Centre
– Link: http://www.metroinfo.co.nz/timetables/Pages/Timetable.aspx?routeid=Or
– 100 Wigram/The Palms via Riccarton
Halswell > Wigram > Church Corner > University of Canterbury > Westfield Riccarton > Merivale Mall > The Palms
– Link: http://www.metroinfo.co.nz/timetables/Pages/Timetable.aspx?routeid=100